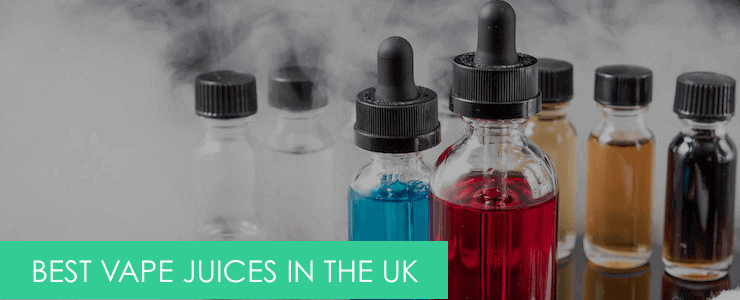 Updated 31 October 2023: Buying the right vape liquid is one of the most crucial tasks when it comes to vaping as it can either make or break your whole vaping experience.
With so many e liquid brands and flavours available everywhere, it can be tricky to choose the best one for you.
You might be wondering right now: what is the best e liquid in the UK? How do you choose one?
Well, we have some good news for you – we have reviewed and compared some of the most popular eliquid brands on the UK market.
Keep in mind that taste is subjective, but this will be a good starting point for beginners and more experienced vapers who are looking to explore new flavours and brands.
Article navigation:
Best E-Liquid Brands
How to Choose the Right Eliquid?
FAQ
Best E-Liquid Brands in the UK
#1 V2 Platinum E Liquid (Editor's choice)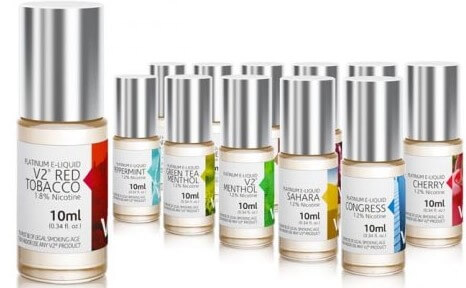 What is the best vape liquid on the market? In our opinion, the best vape juice in the UK for 2023 is V2 Platinum liquids.
Well known for their high quality products, V2's Platinum E liquids are rigorously tested in a laboratory to guarantee that they are consistently of the best possible taste, purity and strength.
The company always publish the ingredients in their products so that purchasers are fully aware of exactly what they are vaping, and every bottle is child-safe and comes with a simple to use dropper.
V2's e-juices are compatible with every V2 vaporizer that has a refillable tank, like the EX Blank, PRO Series and Classic Blank Cartridge. Bottles comes in two sizes, 25ml and 50 ml and it is also possible to purchase a sample pack of 6 flavours.
With four nicotine strengths to pick from, from 0% right up to 1.8%, and 15 exciting flavours from V2 Red tobacco, Congress tobacco, Menthol tobacco through to peppermint, cherry, grape and cola, V2 have an impressive selection for any vaper. If you are looking for the best vape juice, then V2 Cigs will be the right choice.

#2 Apollo (Best tobacco e liquid)

One of the best known contenders in the e liquid market, Apollo offer an extremely impressive range of e-juices that will suit any taste.
Available in both 10ml and 30ml sizes, this company also offer the option of purchasing multi-packs of 5 or 10 so that vapers can enjoy all of their favourite flavours.
From traditional tobacco flavours right up to unusual and exotic choices such as Smoozie Maui Waui, there is something to suit everyone in their fantastic selection.
#3 JacVapour (best UK-made e liquid)

One of the best e liquid brands in the UK – JacVapour manufactures premium high-quality e-juices in a great choice of flavours that are popular with all kinds of vapers.
Every vape juice is rigorously and independently tested within British laboratories to ensure that the highest standards of safety are met. There are e-juices to suit every taste and in a choice of strengths.
From classic tobacco to sweet vanilla and from fruity flavours like apple and watermelon to refreshing Pure Menthol, their vapourless Clear Steam E liquids and easy mix picNIC E liquid range are all made in the UK.
It is worth to mention that Jacvapour is one of the few brands which offer UK made vape juice.
#4 Vsavi 100% VG (Best high VG vape juice)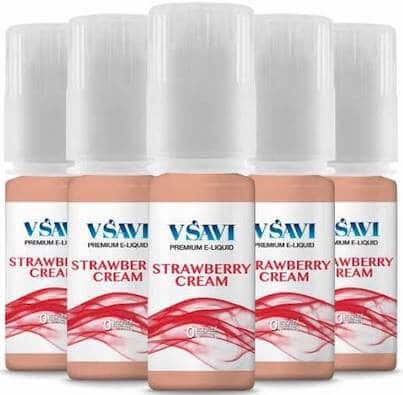 If you are looking for 100% VG vape juice, whether you just love clouds or have a PG sensitivity then VSAVI 100% VG is the e liquid of choice.
Made in ISO labs and fully tested, this organic juice has a good variety of flavours in their Gourmet Range.
You can choose from four great tobacco flavours (inc. Mild, Rich Virginia, Menthol options). Also you can try the rich tasting Coffee Cream or Strawberry for a perfect balanced flavour with maximum vapour. Or get their sampler pack and find your favourite!
VSAVI is specially formulated to be a lot less viscous than other VG e liquids so it won't clog up your tank, pure taste, maximum vapour.
It is safe to say that Vsavi is one of the best e liquid brands in the UK.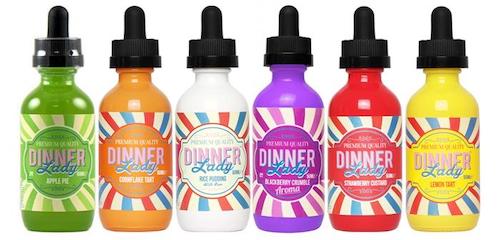 The Dinner Lady range of e-liquids is a professionally made, premium line of vape juices which offer an outstanding experience thanks to their delicious tastes.
Made in the UK, this range is designed to take vapers back in time to their school days with a host of classic, dessert flavours.
This product line offers such mouthwatering flavours as lemon tart, strawberry custard and rice pudding as well as a Salts range which is designed to suit low wattage vape systems.
Whether you love fruits or dessert inspired tastes, you're sure to appreciate this selection.
How To Choose The Right E Liquid?
There are lots of different brands of e-liquid on the market, so how do you know which is the right one for you?
There are a lot of things to consider when it comes to choosing the best vape juice for you, so here are a few of the factors to keep in mind.
Is the e-liquid suited to your e-cig device? If you have a device that has a coil resistance of over 1.0 Ohm you're probably an MTL vaper and so you'll need an e-liquid that is a 50/50 PG/VG blend or, at least, a maximum of 60VG/40PG.You'll also be able to vape an e-liquid with a higher strength of nicotine. On the other hand, if you're a DTL vaper using a sub-ohm tank, your coil resistance will be under 0.5 Ohm and you'll need an ejuice that has a higher VG content of at least 60%. You will probably also want to stick to a maximum nicotine strength of 6mg.
Flavour – ejuices come in all kinds of flavour these days so you can choose from an enormous variety. If you've only just switched to vaping, you may prefer a tobacco flavoured ejuice, but there are plenty of other options including fruit flavours, dessert tastes, menthol or even cocktail flavours.
Blends or single flavours – as you experiment with your ejuices, you may want to consider trying blended e-liquids which combine several flavours in a single ejuice. If you'd like a more complex taste when you vape, one of these options may suit you. However, if you're new to vaping you may prefer to stick to single flavours at first until you get used to the experience.
Nicotine strength – another important factor to consider is the strength of the nicotine in your ejuice. If you're switching from smoking cigarettes to vaping, you will want to ensure that your ejuice has sufficient nicotine to help you quit the habit. However, over time, you'll be able to reduce the amount of nicotine in your e-liquids so you can become less reliant. If you already smoke one pack of cigarettes each day, when you switch to vaping, you can opt for an initial strength of between 18mg and 20mg. You can then reduce gradually to a lower strength like 12mg or 6mg, finally working down to 3mg or even 0mg. It's important to get the level of nicotine in your ejuice right. If the level is too low, you'll need to vape more often. On the other hand, if it's too high, you may start to feel unwell.
VG/PG ratio – ejuices have different levels of VG (vegetable glycerin) and PG (propylene glycerol). Usually, a mix of both will be in your ejuice. PG offers better flavour but less vapour. Meanwhile, VG is thicker and has a sweeter taste. While it produces more vapour, it might overtake your ejuice's flavour. A standard blend is around 40:60, but it goes up to 20:80.Some people have an allergy to PG, so they may need to choose a high VG or even a 100% VG ejuice.
Safety – don't forget to check that your preferred ejuice is tested and has been proven to be safe before you use it.
E-liquid is the fluid that you put in your vaping device where it gets heated up, thus allowing you to inhale the vapour.
What ingredients can be found in eliquids?
E-liquid contains a base such as vegetable glycerin (VG) and/or propylene glycol (PG) as well as flavourings and frequently nicotine too (except for 0mg nicotine liquids). Vape juices come in either bottles or in pre-loaded cartridges.
What is PG in vape liquid?
PG stands for propylene glycol. It's one of the main bases for eliquids (alongside with VG). PG has a thicker consistency than VG and less sweeter taste.
What is VG in vape liquid?
VG stands for vegetable glycerin. It's one of the main bases for eliquids (alongside with PG). VG has a thicker consistency than PG and sweeter taste. VG also provides bigger vapour clouds. High VG vape liquids are commonly used for sub-ohm vaping.
What vape juice should I get for huge clouds?
If you are looking to make the largest clouds you possibly can, then you will want to choose an e-juice that has a high VG number or one that contains pure VG.
VG stands for vegetable glycerine. This compound is essentially what produces a vape cloud. So, therefore, a higher VG count would mean that a larger cloud would be produced.
Generally speaking though, E-juices with a higher VG number tend to be the sweeter flavours on the market, so if you're not a fan of sweeter flavours then you will likely have a more difficult time trying to find high VG vape juice.
E-juices with a high VG also tend to suffer from a more muted flavour as they naturally have less PG contained inside which is basically the compound that carries the flavour in the E-liquid.
High VG E-liquids are also quite thick, meaning that they take longer to be saturated into the coils.
A better question would be "is e-liquid a safer choice than tobacco?" Since e-liquids only have a few ingredients in them, they are safer than cigarettes. In fact, they're 95% safer than cigarettes according to the Royal College of Physicians. Although e-liquids haven't been proven to be 100% safe yet, they a better choice than inhaling the 5000+ chemicals found in cigarette smoke into your lungs.
What vape liquid should I avoid?
While the vast majority of vape liquids on the market are completely safe to use, there are a few that should be generally avoided. For example, vape juices that have been made cheaply should probably be avoided at all cost.
Super cheap E-liquids will have been manufactured using substances and chemical compounds that are not pure or consistent. The lack of consistency and standardisation in these E-liquids can cause some serious health issues in some cases.
Many of these cheaper E-liquids usually come from China and will be visibly sub-par. A general rule of thumb is that if the label of the product does not look legit, then it probably won't be. 
E-liquids that have been made in Europe and the US are your best bet. Always stick with brands that are well recognised amongst the vaping community.
The well-known brands within these countries always ensure that their product is well-tested and safe to consume.
How should I store my e liquid?
Best practices for storing your vape juice:
Don't expose your eliquid to the direct sunlight
Avoid extremely low or high temperatures
Keep your e liquid in a cupboard, drawers or similar place where it's dark
Make sure to keep your liquid safely hidden away from the children.
How long can I keep e-liquid?
E-liquids tend to have quite a long shelf life and there is no official expiry date for them. Usually, manufacturers say that their products have a 12-month shelf life as long as the ejuice is correctly stored in a drawer or cupboard and away from direct sunlight. If you keep your e-liquid in the fridge, it may last longer.
The steeping process allows the vape juice to rest for some time in order to improve the juice's flavour in a similar way to allowing a good wine to age. There are several methods of steeping and everyone does it differently. You can read more about e-liquid steeping in this article: How to steep E-Liquid?
What e liquids should I get?
This is down to preference, so the best thing to do is to try several vape juices to see which you prefer. While it is always a good idea to read user reviews to get some idea about which flavours are the most popular, it's important to remember that not everyone has the same tastes.
There are so many different brands, types and tastes on the market today that you have a world of choice to select from. As well as traditional tobacco or menthol flavoured e liquids that replicate the experience of smoking a cigarette, there are more unusual and exotic flavours too like fruity blends, cocktail inspired flavours and dessert varieties.
Depending on your personal preferences, you may not want a traditional tobacco flavouring but may prefer to try something sweeter or more unusual. You should also try a variety of PG/VG blends to see which you like best as some people prefer a blend that is higher in VG and others prefer a more PG heavy mix.
If you are planning on sub-ohm vaping you will need to choose an e-liquid with a higher ratio of VG, however remember that vape juices with a larger proportion of vegetable glycerine are thicker and can therefore cause your electronic cigarette to require more frequent cleaning since sticky residue will build up more quickly. It will also make your device harder to clean.
What e-liquid strength should I choose?
This is a very general guideline for choosing the right nicotine strength:
Zero 0mg – This is a good choice for vapers who have successfully managed to quit nicotine and simply want to enjoy the vaping experience. This strength will give you 0 throat hit.
Low 6mg – This is a good strength for casual smokers, who smoke around 5 standard cigarettes daily. This strength should give you a minimal throat hit.
Medium 12mg – A good strength for those who smoke about 10 cigarettes daily. This strength is good with a noticeable throat hit.
High 18mg – A good choice for anyone who smokes about one pack of cigarettes a day or more. This one has a very strong throat hit.
Also, the strength you choose may depend on your vaping device as different devices like vaporizer pen and more powerful devices (like mods) for sub-ohm vaping require different liquid strength.
What is zero nicotine eliquid?
As you might expect, a no nicotine vape juice will contain zero nicotine. It only consists of the other ingredients that are used to make e-liquid – Flavourings, VG and PG.
Can you make your own E-Liquid?
Yes, you can make your own e-liquid. DIY vape liquids have become very popular recently. For more information, check out our DIY E-Liquid guide for beginners.
Why do I keep getting vape juice in my mouth?
To minimise a chance of getting e-liquid in your mouth, you should try following:
When you refill your e-cig, take care to allow no liquid to drip into the middle pin as it must be kept clear for the air flow.
You should also avoid putting your e-cigarette into your pocket upside down as the liquid will all run into the mouthpiece.
Ensure your tank is never overfilled.
If you are experiencing headaches, dizziness and nausea you are probably intaking too much nicotine. If this is becoming a problem, try choosing a lower nicotine dosage. If you are using liquid with 18mg nicotine strength, try switching to 11mg or 6mg liquid.
Chain vaping is not a very good idea, and you should listen to your body as it will warn you if you are overdoing it.
What is the maximum legal ejuice nicotine strength you can buy in the UK?
Since European TPD laws came into effect on May 2017, the maximum nicotine strength you can purchase in Europe (including UK) is 20mg/ml. However, it is totally legal to order e-liquid outside the EU for personal use (thus, allowing you to buy stronger vape juices).
Can you legally import eliquid outside the UK/EU?
The TPD in the EU has put restrictions on vape juices that are sold in the EU and this means that some countries allow cross-border sales and others don't.
The UK does permit cross-border selling so, even though the maximum size of a bottle of ejuice is limited by the TPD to 10ml and the nicotine strength is limited to 20mg/ml, you can buy e-liquids from out of the EU to use yourself and those regulations won't apply.
Although a business technically has to be MHRA registered to permit cross-border UK sales, the rule enforcement is lax.
It's unlikely that you'll be stopped by customs if you import vape liquids from overseas, so in theory, you should have no issues if you're importing e-liquid from America for personal use (but be aware that you may end up having to pay a customs fee).
Finding a good quality e-liquid is vital if you want to really enjoy your vaping experience to the max.
However, with so many different flavours, blends and nicotine strengths to choose from, you should have no difficulty in finding some that really appeal to you.
Half of the fun of vaping is experimenting with all the different options available, so why not try out as many as possible to broaden your vaping horizons?
Best Vape Juice Brands 2023
Vsavi 100% VG E Liquid
V2 Platinum E Liquids
JAC Vapour UK Made Eliquid
Apollo Vape Juices
Dinner Lady